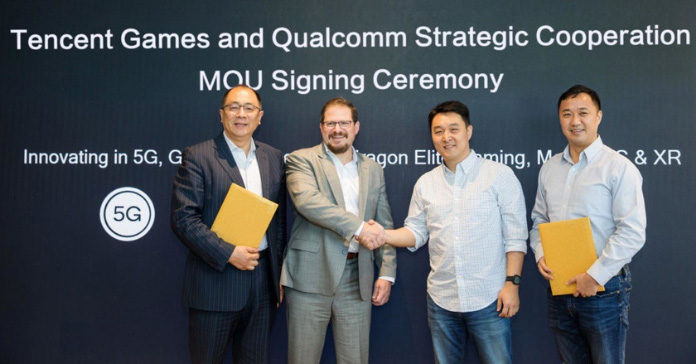 Today's era is becoming the era of collaboration, and it seems the trend is evident even in the upper echelons of business! Tech heavyweights Tencent Holdings and Qualcomm have agreed to join forces to develop a bunch of hardware and software that will be focused on mobile gaming. This includes making the games of Tencent run better on mobile devices that have Qualcomm chipsets, as well as creating a 5G Tencent gaming phone.
For those who don't know, Qualcomm is arguably the biggest provider of chips that power many smartphones today and Tencent, as all gamers know, is one of the biggest mobile software companies in China, rivaled only probably by Netease. They have made highly praised mobile games like PUBG Mobile, Arena of Valor, Perfect World Mobile, and Call of Duty Mobile. They also happen to own WeChat, one of the biggest social network apps out there, and they partly own Riot Games.
The joint collaboration of Tencent and Qualcomm hasn't been officially set in stone as the contract is a nonbinding memorandum of understanding (MoU) but this hasn't stopped both companies in outlining what they have in store together. Aside from those mentioned above, they will also be working on cloud gaming and AR/VR.
The planned 5G phone is a potential hit, because it would allow mobile devices to stream more complex games with faster data speeds. This ties neatly with another of Tencent's project, the Instant Play, which is a cloud-based backend service that game developers can potentially use to power streaming games.
"Tencent has worked closely with Qualcomm Technologies and we are very pleased that the strategic cooperation announced today has deepened and expanded the relationship between the two parties. We hope that fostering cooperation between both parties can utilize our respective technologies and R&D expertise to further innovate the game industry, thereby bringing better game quality and interactive experience to users."

Steven Ma, Sr. Vice President, Tencent
"With 30 years of innovation under our belt, we're ushering in a new age of gaming. Mobile gaming, an important 5G use case, will soon take advantage of the next generation of connectivity. Faster speeds, more bandwidth, and cutting edge ultra-low latency will support real-time, multi-player and immersive gaming experience. We look forward to this new cooperation with Tencent Games to enrich lives and transform gaming behaviors on a global scale."

Frank Meng, Chairman, Qualcomm China
The collaboration can prove to be a huge powerhouse move since the demand for mobile gaming has skyrocketed over the years with more and more prominent gaming companies focusing their resources on the mobile platform. What do you think about the collaboration between Tencent and Qualcomm? Could this shake up the mobile gaming industry?